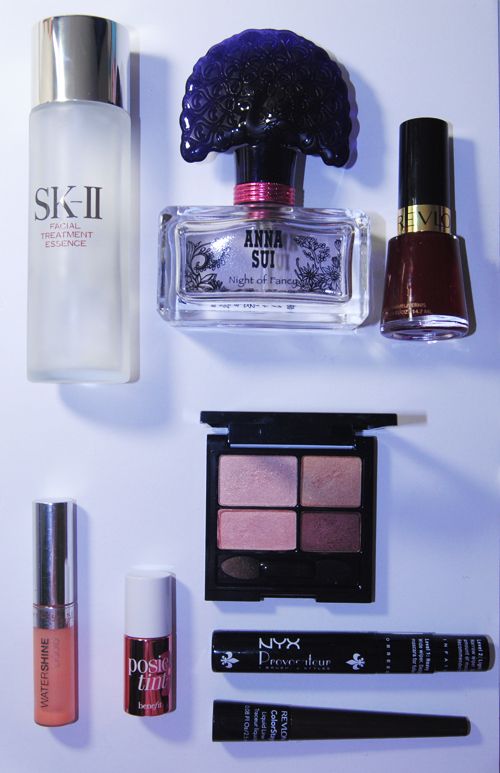 Beauty essentials which are filling my beauty table, and which I love the most lately:
SKII Facial Treatment Essence, been using SKII Pitera Essence Set since about 5 months ago. And I think I have to stick to SKII from now on. It really is not easy for me to find suitable face treatment since my skin is very sensitive. But SKII's product only give me fairer skin since the first day I applied it to my skin.
Anna Sui Night of Fancy Eau de Toilette, no matter how much I try another perfume, this perfume is the only one I love to accompany me through evening event. It smells sweet, sensual, and it lasts long, yay!
Revlon Nail Polish no. 730, the color of this nail polish is the only bright color which is suitable and match my hand skin color, and I feel sexy everytime I use red nail polish, well?
Maybelline Watershine Liquid, the secret to use this product is to apply it slightly on our lips. And it will perfectly reveal the freshness of our lip tint or matte lip stick.
Benefit Posie Tint, been trying the other lip tint before and quite surprise once I try this Posie Tint. The texture is almost like liquid, thicker than Benetint, and it matches my lips condition perfectly because it keeps my lips hydrated. And the color is perfect!
Revlon Colorstay Eye Shadow, basic color and matte. That's all I need from eye shadow.
NYX Provocateur Mascara, this mascara has two brushes. One with wide wiper which gives fuller effect on our eyelashes. And the other with narrow wiper and gives finer effect. Perfect combo in one mascara.
Revlon Colorstay Liquid Liner, the color is dark brown. So I like it because it blends more naturally with my chosen eyeshadow and it is perfect for daily application.
Well, do you have beauty essentials which you love the most, lately?