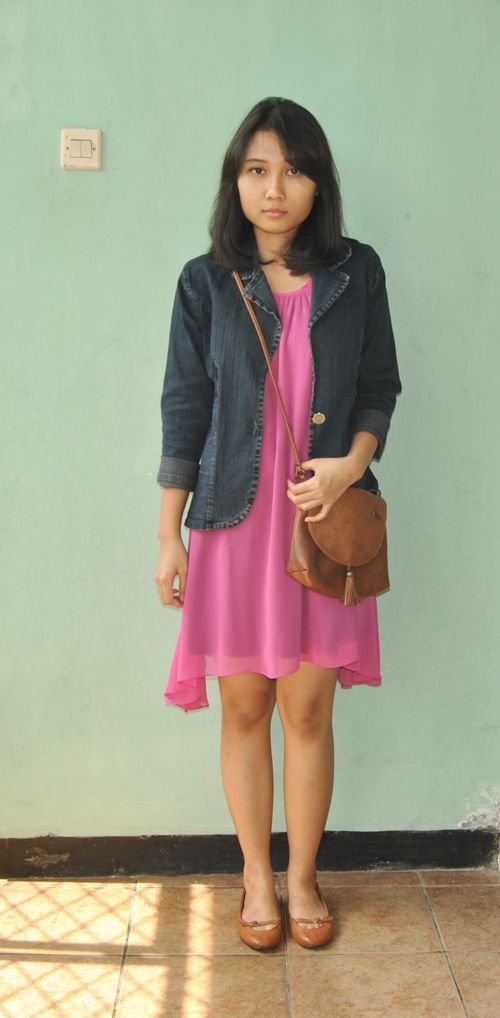 Dress (Exze), Jeans Jacket (Unbranded), Bag (Roxy), Shoes (Wondershoe)
Been discussing about preference with my boyfriend while waiting for his departure back to the place he study. And here are some of the list of my preferences, of stuff in life, just for fun:
I prefer my desktop to be clear from anything. Just a matching background picture, and that's all. I love simplicity.

I prefer less sugar and extra ice cube in my daily dose of coffee.

I prefer english breakfast tea than earl grey tea.

I prefer Vanity Fair than Vogue.

But, I prefer Monocle than Vanity Fair.

I prefer I Swear than One Thing.

I prefer a smart gentleman who can keep the conversation going for hours without me realize.

I prefer gentleman who doesn't spare much of his time paying attention to his social media.

I prefer Thailand or Vietnam cuisine than Italian cuisine.

I prefer skirt than jeans.

But, I prefer dress than skirt.

I prefer modesty than sexy.

I prefer city tour --walking along the city looking for old architectures, stop by at a museum, searching for a small but nice coffee shop, and hunting in a secondhand book shop-- than highlands or beaches.
Well, that's all, for now. How about you? What do you prefer?