Lately I've been working at one of the state hospital's emergency room, so I guess it is imaginable how much stress it puts to my mind and my body. It is hard to look radiant when I have dark circle under my eyes, so then I've looked into some product that can get rid of it. There, then I found Timeless Truth, a beauty brand originally from Taiwan which specialized in mask. They have a wide variety of product, including face, eye, and breast mask. Luckily, I was able to get two of their products, which are apple lifting correction eye mask and orchid extract whitening mask. Now that the urgent matter is my dark circle, I should try the eye mask first.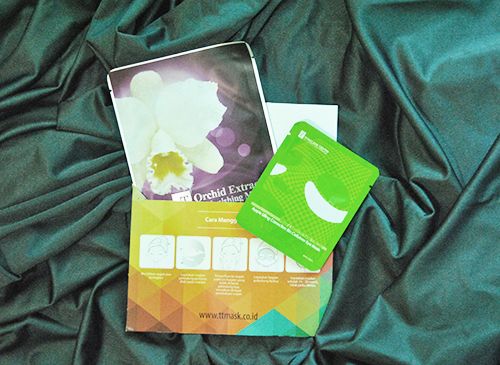 The apple lifting correction eye mask contains apple extract, arbutin, and green tea extract. While apple extract is good for skin metabolism, able to prevent early aging, and able to maintain the smoothness of the skin, arbutin plays its part at reducing pigmentation. So, together they claimed to be able to provides a great effect on dark circles under the eyes. Great news, just exactly what I need! Let's see how it will affect my dark circle.
How to use the apple lifting correction eye mask:
Cleanse the face.

Open the sachet and take out the eye mask.

Gently place the mask under the eyes.

Remove mask after 15-20 minutes, gently massage the remaining essence under the eyes, post cleansing is not needed.
Before using Apple Lifting Correction Eye Mask
(I do not wear any make up, except a little lip cream)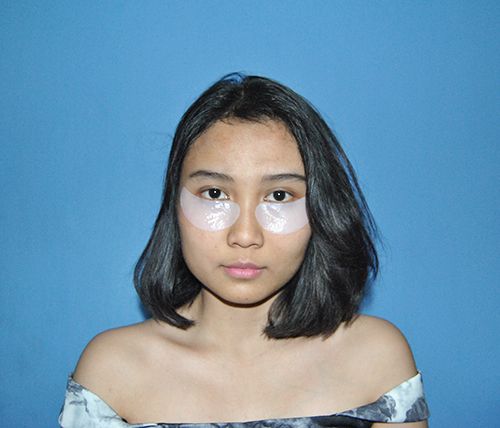 How the eye mask looks like:
It comes with bio cellulose mask that contains lots of extract liquid on it. It smells good, feels cool and refreshing once applied to the skin. After 20 minutes, it still is feel cool and refreshing.
After using Apple Lifting Correction Eye Mask:
I do not see any significant difference, but of course my eye looks a little bit more fresh. I guess it has to be worn a couple of times if we want to see maximum effect.
Based on my opinion, this product is worth to try, but it is best to buy one package and wear it regularly, after that then maybe we could see the maximum effect. The price is not expensive at all as you can see above, it is easy to get just by one click away at its web, and is easy to use for it only takes 15 minutes per session and we do not need to cleanse after using it. And for me, this mask does not give me any pimples or skin break out post-usage. I like to wear any kind of mask at night, for our skin is in optimum condition to heal itself at night. To conclude, I give 4 stars out of 5 :)
So, let me try the face mask and write another review while you can start to click Timeless Truth web and browse your desired product, shall we?