P.S. I am changing the display ratio at my blog so it will be convenience for you later to read, and see a better quality picture. But, my previous posts might contain a little bit inconvenience texts and pictures ratio due to the picture's previous setting. Do please forgive the inconvenience :-)
have you ever heard about jazz gunung? I hope you did! because it is such a great event you could never be able to miss! it is a jazz annual concert, held at java banana hotel's open stage (sukapura, east java), 2000 meters above sea level.
could you imagine? enjoying such a lullaby melodies from the best jazz musicians, breathing in a naturally fresh and cool air, while your eyes surely will be wide open enjoying the best stage ever exist, a view of tengger mountains area accompanied by fog and moon & stars at night. it is a complete package of a jazz concert.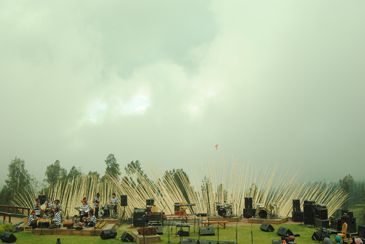 this year, jazz gunung held on July 6th-7th. too bad I didn't get the chance to watch the second day concert because the ticket was sold out.
anyway, that was the stage of jazz gunung 2012. beautiful, right? and that was gita taruna probolinggo as the opening act.
ring of fire project (a collaboration project of djaduk ferianto, slamet gundono, and dewa budjana) played Indonesia Pusaka and asked the audience to sing along with them, breathtaking moment I love the most!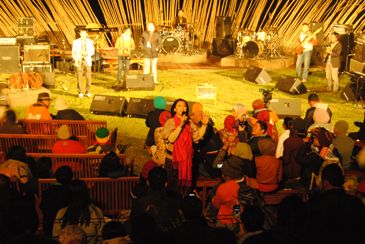 iga mawarni, yes, stunning! my favorite moment was when she sang "leaving on a jetplane". what could I say? perfect.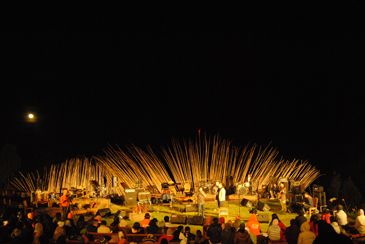 and the first day of jazz gunung presented benny and barry likumahuwa as the closing act! love them most! you see that? the moon finally shows itself and accompanying benny and barry likumahuwa's performance. such a breathtaking natural stage and great music. epic!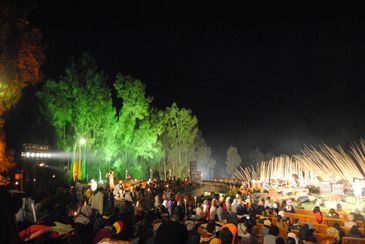 look at the crowd! and look at the beautiful natural stage, with natural fog :P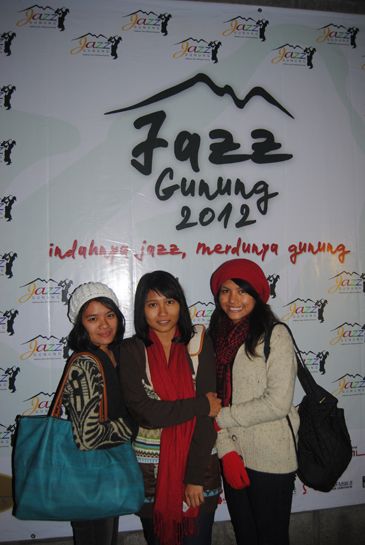 me wearing: top (unbranded), sweater (buenofide), scarf (unbranded), jeans (cheap monday), shoes (unbranded)
and that was
me, shella, and shindy at jazz gunung monument. that statue was made by dolorosa sinaga. well, I bet now you want to come to next jazz gunung! am I right? :P see you at jazz gunung 2013 anyway!