Previous Post: Malaysia (Part One)
Done with Kuala Lumpur City Gallery, we walked a little bit further around the surrounding and accidentally found Kual
a Lumpur Textile Museum, a place that wasn't listed on our itinerary in the first place. But well since we still got quite much time and the admission fee is free, we decided to enter the museum anyway. The museum was about Malaysia's traditional textile and the story of the making process described with artistic displays, documentary videos, and digital stories. I think every country supposed to do this, a simple idea yet supported by a great execution.
Then we moved to our next destination, Central Market. For us, Central Market was quite reachable on foot from Kuala Lumpur Textile Museum. Once you walk and notice a light blue building from a distance you can be sure that you have found Central Market. The market is neat and air conditioned and sell various souvenirs in a cheap price. Just beside Central Market, there is also a market called Kasturi Walk. There you could find various kind of Malaysia street snack, yum yum!
We loveee to try food! And Malaysia possess the best diverse culinary world because the diversity in its society's ethnic. It feels like I want to jump into every restaurant I found! We tried Restoran Yusoof dan Zakhir just outside Central Market. And that was bread with curry sauce, beef masala, and of course teh tarik. For me, it's easy to feel full once I consume this kind of food. Even though I like spicy and lighter menus better, but this one is a must try!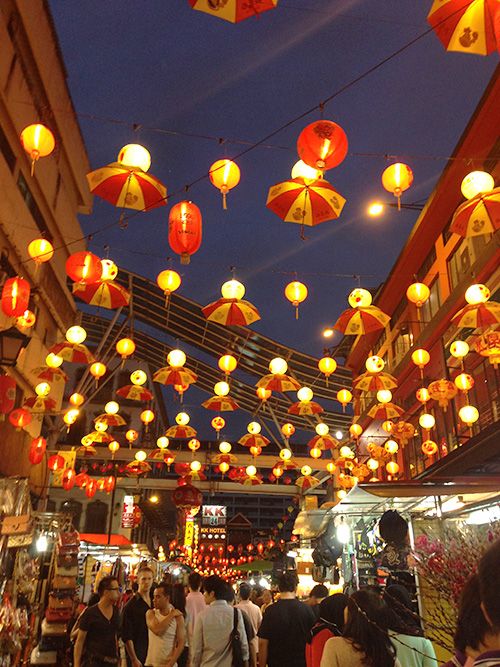 China Town is within walking distance from Central Market so we directly go to China Town once finished with our food at Restoran Yusoof dan Zakhir. It sells cheap souvenirs & goodies, but the best is the street food! When I walked along China Town, I saw a lot of tourist enjoyed their meal and beer along the restaurant at China Town's street. And we tried this Portuguese Grill Fish booth which catch our attention. We ordered Portuguese Grilled Clam and it tastes like heaven I can't get enough of it! :'-)
We closed our day at Kuala Lumpur City Centre gazing at Petronas Tower which shine so bright. At Kuala Lumpur City Centre, you could also find a mall called Suria. We did a little window shopping there, then have a quick rest just outside the mall right at the park which have a magnificent fountain. It's easy to fall in love with a city even when it is your first time visiting, isn't it?
Next post: Kuala Lumpur Cuisine.