P.S. I am changing the display ratio at my blog so it will be convenience for you later to read, and see a better quality picture. But, my previous posts might contain a little bit inconvenience texts and pictures ratio due to the picture's previous setting. Do please forgive the inconvenience :-)

"what crazy things will you do, if tomorrow the world is going to an end?"
for me, this is my answer.
"I will fly to Singapore and go straight to Marina Bay Sands Casino. I will gambling and let my self win and get as much cash as possible. After fullfiling my bag with cash, I will go to Orchard Road and buy myself winter outfits, from boots, coats to scarves, from Zara to Hermes. Then I will buy myself a flight ticket to Iceland, to spend my last day on earth staring at the northern lights and stars."
well, I never gamble, and that could be one of the crazy thing that I want to experience at least once in a lifetime. I love shopping, and I really want to see the northern lights. so, that is the answer that crossed my mind. and, what will be your answer for those kind of question?
that is one of the question which is asked during the interview session of the miss universe contest 2012. a very simple question, but it would be hard to answer since the answer could be very mediocre, but to win the contest you have to answer that question with such an unexpected answer, right? and also the one which relfect your character the most. well that's what I guess.
anyway, want to see what's inside my bag to guess again about how my character is? this is it :P
bag (charles n keith)
basic needs: phone, iPad, wallet (guess), and sunglasses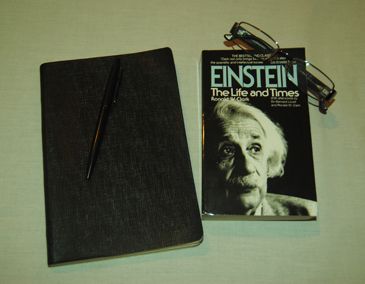 notebook (front) and pen in case of ideas suddenly popping out of my head :P
book (the biography of einstein) yes I actually much more love to read while waiting instead of busy with my phone or iPad, and of course accompanied by a glasses (emporio armani)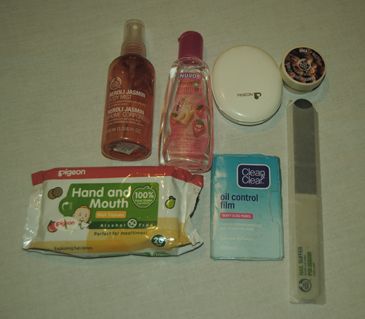 basic body needs: oil control film (clean n clear), body mist (the bodyshop), hand sanitizer (nuvo strawberry!), cocoa lip butter (the bodyshop), nail buffer (the bodyshop), wet tissue (pigeon), face powder (pigeon) yes since my skin is way to sensitive I rarely wear heavy make up except for a formal event.
and that were what I carry inside my bag lately. what about yours?