Previous Post: Malaysia (Part Four)
On my last day at Malaysia, I can not go anywhere too far because my flight back home is at 9pm and it took about an hour from downtown Kuala Lumpur to Kuala Lumpur LCCT (Low Cost Carrier Terminal). So, me and my travel mate decided to stay in town. Then off we go to Bukit Bintang, the entertainment and shopping district in the center of Kuala Lumpur.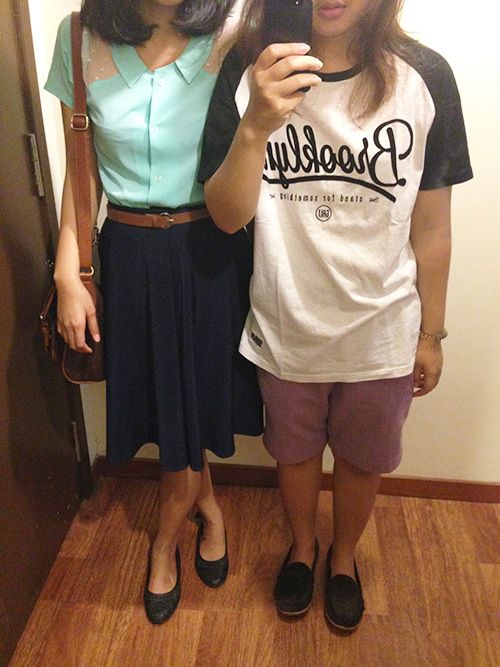 OOTD at the hotel, me wearing: Top (Fleur), Skirt (Tailor-made), Belt (Unbranded), Shoes (Unbranded), Bag (Unbranded)
When arrived at Bukit Bintang we immediately enjoy our breakfast at Tous le Jours, for complete culinary guide in Bukit Bintang, you can read my previous Malaysian Culinary post HERE.
Sephora Store, Bukit Bintang
Times Book Store, Pavilion Mall, Bukit Bintang
TWG Show Room, Pavilion Mall, Bukit Bintang
In front of Pavilion Mall
We spent our day at Bukit Bintang from 9 am until about 3 pm walked from one store to another store and trying out food that tempted us, yay! At 3 pm we had to go back to our hotel, took our baggage and went straight to Central Station to take bus to Kuala Lumpur LCCT. 4 pm is such a rush hour and we have to take KL rapid while bringing our luggage, well it took a quite big effort actually. But, when arrived at Kuala Lumpur LCCT we feel sad anyway because our holiday is over. Gonna come back to Malaysia one day for sure, because there are still a lot of place I haven't got the chance to explore at that time!